Home >Everest Marathon Report
Everest Marathon Report
17/05/2013

22 Comments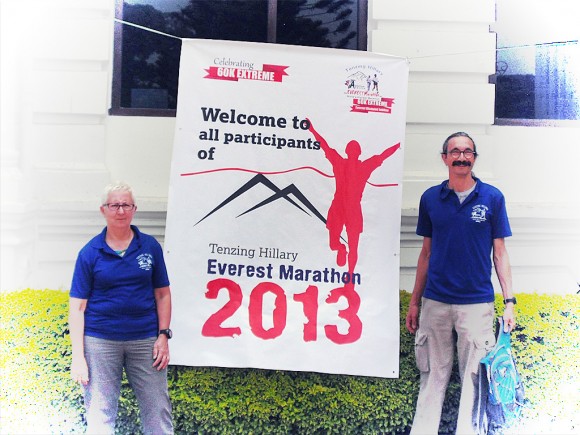 May 15-16
After the scare , because the car we had to take to the airport broke down and had to call Ivan to take us , things went very well.
We left BCN virtually "on time " and came to Doha at the set time . There we waited an hour for flying to Kathmandu , where he also arrived at the stipulated time .
The organization waited and take us to the hotel. The first impression was very chaotic looking cars and buses were parked at the airport, but was rising as we were running through the city, and there was total chaos , cars, motorcycles , bikes , cows , monkeys, etc. which made it very difficult to move .
We know some of the runners and after the paperwork, we will leave our bags in the room and give us a well deserved shower , we're kicking around the neighborhood of Thamel. Getting there was risk our life as there are no traffic lights or pedestrian crossings and have to pass between cars, bikes and go jumping holes because there are no sidewalks and the road is very wrong.
We have lunch in Thamel at a typical Nepalese food. We return to the hotel to rest a bit and in the afternoon it 's raining buckets and we get to write the story .
May 17
Today has been a day of meetings and preparations to begin the trek to Base Camp tomorrow . Early lunch at noon and make us a scenic tour of the city to see Hindu and Buddhist monasteries. All of them quite spectacular for their color and ornamentation. The city continues to amaze us by his very heavy traffic and the number of people circulating and living micro – shops that touches the other .At the back, we have the breifing where we get the bag will have to carry yaks and after a good shower ( because is very hot and humidity) and after to fill the bag and backpack that will carry us, we go to dinner we have prepared open buffet and certainly very good .It's been a very busy and tiring day and we are going to bed early
May 18
We got up at (4.45 am) and we will have breakfast and after the show for all groups to distribute the bags because of the porters carry. There comes a minibus to take us to the airport to catch a flight to Lukla. There is considerable chaos , apparently only work by this way . Several times people do count bags and give us our boarding pass and wait.
It seems that all of the group can fly . We are separated by different planes , as only fit 14 people in each. The flight does not seem so terrible how we had been painted, because we had no turbulence and the landing was perfect.
Start again the chaos of bags here and there , we found that ours have arrived and separated the groups by the different lodges and we have a good time hoping not know why. After a long time tell us that the food will be at 11 and we can go for a walk around Lukla. This small town with blue roofs and colorful doors makes us realize that we are in the Himalayas.
We ate and then we loaded our bags as different porters and each porter carry between 30 and 40 kilos . We also saw the first yak , traveling companion these days. Finally we set off with slow, determined steps . We walked up a paved walkway with stairs and with a fantastic view of the valley, we are continually seen porters and people coming and going making the trek . We make stops at different lodges and spent our first suspension bridge that is very scary and along the way we found stones with different mantras.
Finally got to Phakding where we had a welcome tea , we rested a bit and then to dinner.
May 19
From Phakding to Namche Bazaar ( 3,440 mts . )
Diana at 6 in the morning to prepare breakfast Tackle and 7 . Today for breakfast we get a very nasty kind of porridge with jam and a boiled egg as you can see the food is very scarce. At 8.15 we set off slowly today because we have overcome a height difference of 700 meters. The scenery is awesome , the valleys are deep, all is majestic in relation to the known. The road winding up and down near the river and did not win a lot of height . We spent 4 very long and spectacular suspension bridges. Finally start the stone steps and the road climbs without giving respite and won most of the gap in this climb.
At a bend in the road suddenly appears Namche Bazar with its houses seem hung vacuum by a semicircle. We arrived at the lodge is the best we've been . Luckily our room overlooks the town and the view is spectacular.
Catalan and Catalan flag flutters in Namche Bazar .
May 20
Namche Bazar
In theory day off today so we hike for about 4 hours and won a vertical drop of 400 meters and probably more than a thousand stairs. We can say that the effort is worth it as we see for the first time Lohtse only briefly before being covered by fog. After lunch as we have not yet gained sufficient steps we will walk around Namche Bazar and entered the Everest Coffee and Joan takes her first express Isabel and a tea and a nice pasta.
Currently, acclimatization is going well
May 21
From Namche Baazar to Deboche
After eating a hearty breakfast each day , we are about and we renewed energy to tackle a hard day of trekking . We left Nache and how could it be otherwise with stairs . We 're gaining altitude until a fairly wide and very winding road climb now , now low and approaches the bed of the river Imja Khola . We follow a long stretch until we stopped to eat . We are sitting in the sun for a while, but as we have had enough sun , we entered the room where the Sherpas eat and people of the country. The experience is very enriching.
As usual with a full stomach facing the biggest drop. The transit of animals and people do not stop and walk under flowering rhododendrons of all colors, white , pink, yellow . It is fantastic. The climb is softening up to the monastery Thyangboche ( 3,860 mts . ) And we are lucky to get right when you start the prayer of Buddhist monks and let us in to see him.
Once we finished we headed to Deboche amid rhododendron forests and spend the night .
Currently acclimation is good and we have no problem .
May 22
From Deboche to Dingboche ( 4,410 mts . )
At 8 in the morning we set off different groups. The first stretch of the road is down and looks very relaxing. We crossed the river Imja Khola by a metal bridge and from here the road is a low upload without gaining too much height . Suddenly i Ama Dablam and Lhotse appear very spectacular.
We 're making our way up and we stopped for lunch in the village of Pangboche and as every day after lunch we expected the strongest gradient. It seems that they do express . We cross the river and reach a plateau where forest vegetation has disappeared since we are about 4.000. Suddenly the fog covering practically and will not only see a meter until it finally reached the village of Dingboche , amid thick fog . It's amazing the amount of dry stone walls in all the towns we go through .
Acclimatization is well and had no problems so far.
May 23
From Dingboche to Chhukhung and return
Acclimatization day in Dingboche and walked along a high plateau 4,400 meters., We gain altitude up to 4,700 meters. To our right the Ama Dablam appears in all its majesty, it seems that we will fall over. Before us the Island Peak and Lhotse left appears. Today for the first time we run over 4,400 meters and feelings are good.
After tea and pastries w ego to collect the bibs and information about the marathon.
Acclimatization is on schedule and we found it very good.
May 24
Dingboche to Lobuche (4,920 mts.)
Today was a day when the grandeur of nature overcomes and do not have the words to describe the fact of being surrounded by mountains over 8,000 meters, Makalu, Lhotse, the elegance of Ama Dablam, Pumori. He has also been a very hard day for the fact overcome 500 meters of altitude starting from a height of 4,400 mts.
Once at Lobuche and after the usual tea and pastries, we went to see the moraine of the Khumbu Glacier which is very spectacular.
Currently there affects us altitude sickness. Tomorrow overcome the altitude of 5000 reaching Gorak Sheep which is the last lodge before Base Camp.
May 25
Lobuche to Gorak of Sheep ( 5,180 mts . )
Today went a little later because we will walk about 5 kms to Gorak Sheep . The road gradually gaining altitude until finding the first ledge that makes us gain altitude , from this point we see the spectacular Khumbu glacier moraine . Always to our right we had the Nuptse and in front leading the way as the pyramidal summit of Pumori . Suddenly Everest somital middle part covered by fog appears to us . As we approach Gorak Sheep transit yak caravans is constant and we have set aside to let them pass . Needless to say that the movement of people is constant.
Finally we arrived at Gorak Sheep and we have every afternoon and took the opportunity to go to stretch their legs and sit and watch the constant spectacle of people and animals that come from the Everest Base Camp .
Acclimatization is good, but the height is noted and movements to be slower.
May 26
Day of acclimatization climb to Kalaptahtar (5,545 mts.)
Today we got up earlier than ever. The more specific we left at 6:15 a.m. and occasionally made small stops as we needed air. As we gain altitude discovered the Everest and we saw the full extent of the Khumbu Glacier.
As we gain meters we are seeing more and more until we reached Everest summit and could see the Everest South Col.
The view is stunning surrounded by high peaks, the space is great. We were a good time at the top and have a reminder for all those who can not be there with us.
Much to our regret we have to get down and do the very rapid descent since we ran.
At 9:30 AM breakfast that we already have well earned.
Finally tomorrow morning we're heading the Base Camp.
May 27
From Gorak Sheep Base Camp (5,365 m.)
Bad weather will be our traveling companion, as sleet falls throughout the 5 kms of the route. It's a constant traffic of porters laden with all sorts of things, tables, chairs, stoves, gas bottles and tents. Yaks are also step and we have to stop. We say stop yak and so we used to sit and breathe. Until now only see the moraine, but the fog lifts a little and let us see the Khumbu glacier with seracs really spectacular. The chaos is impressive ice and rock. Still snowing and the arrival at Base Camp is chaotic while giving us our tent and wait for news of what we have to do and still snowing. Finally it seems that we will eat.
In the afternoon we take a tour in the base camp. He keeps snowing all night and very cold.
May 28
Everest Base Camp
Luckily the weather improved and gradually gaining the sky a deep blue. After breakfast we accompanied to the place of departure of the marathon, took the official shirt because we are going to take a picture of rigor. The organization mounted a show of pictures and other pretty funny. Finally were a few runners in our group and we move a little on the Khumbu glacier and we take photos and we throw snowballs. We return to the tent to wait for lunch.
In the evening resting, we prepare the things for tomorrow. Throughout the day we hear and see falling rock and ice avalanches that make a terrifying noise. Once again the spectacle of nature surprises us.
May 29
Start Tenzing Hillary Marathon
At 4am sounding reveille , does freezing cold water is falling as snow. Breakfast very fast , we make tea and coffee and gradually into the chaos of the moraine will exit and start again show the organization. The race director whistle in hand, singing numbers going back and organizes such chaos that finally move runners to dial us back .
A 7.15 is given the output and the faster runners lose sight within the chaos of rock and ice . We are running into a caravan of yaks and other in opposite direction abruptly appear in a narrow place. Shouts and blows of stone to the animals and as a result we almost enviste a yak . When we got to the first control in Gorak Sheep starts snowing hard and the wind is very annoying. The slopes at this point are very important.
Let kilometers by bad weather to the back and when we arrived at Dingboche we made 3 km psychologically very hard because they are round . Next Pangboche control and then we have a steep climb to the monasterior of Thyanboche and then a steep descent amidst formidable rhododendron forests over 2 meters high.
We arrived at Phungitenga , Sausasa with a very dense fog , darkness and rain make the steep slope to Khumjung was very hard and the last kilometers are a calvary , since the light on the front not seen nearly the way and we had to stop many times to avoid falling into the abyss that was to our left. We pass Chorten and practically see nothing , such is the fog and darkness when we arrived at Namche Baazar we stand and shout for someone to tell us where the arrival was . Luckily two guys indicated that we were 50 meters to the finish . We arrived after 13 hours wet , tired but very happy. We accompany the lodge because the darkness is total, since there is no light due to bad weather and rain of recent days and the solar panels have not been charged.
On arrival at the lodge we congratulate our colleagues .
May 30
Still raining on Namche Baazar and twe could sleep very well after so many days that we had not done , and we're all 3,450 mts .
We met with colleagues to breakfast time and their faces are the fatigue and happiness.
Although it has not stopped raining , we decided to go shopping. It really is an act of will in Namche as all streets with stairs and are the lowest rung ago 35 cms.
Still raining when we return to the lodge to have luncht and tell us that tonight we sleep in Monjo . We collect all our gear and we set off , always accompanied by our guides.
The tour is very nice and always surrounded by woods following the river with low rainfall with great force. We spent a couple of suspension bridges now no longer so scary and finally reached Monjo completely wet. As always on arrival , tea and coffee and biscuits waiting for our bags to arrive and the keys to our room.
May 31
From Monjo to Lukla
Today we will not drop much, but the road is a constant low rises. We stopped to eat and they are so calm and organized takes about 2 hours to serve us.
When we return to get going we have a conflict with a caravan of yaks , as we can not pass and finally stop the animals and we follow.
We walked about 4h30 under a fine rain and lots of mud and climbed the last few steps of the thousands we have gone up and down and we got to Lukla..
At the time we give you the tips for the guides and porters . A draw is also between porters and guides that have given runners . We have given away our old Gore -Tex .
June 1
Lukla
The day does not look good for flying. The fog and rain and it looks like we'll stay on land but so far no one says anything.
Finally in the afternoon we report that no longer fly, and offer us an option to fly tomorrow is pay $ 260 per person and we take in an army helicopter to the village of Jiri and from there with a few rickety bus will 110 km mountain roads up and down ports for a period of 7 hours.
We have no choice t to accept if we are out of Lukla.
Tenzing -Hillary Everest Marathon report, May 29, 2013
22 Comments